The courses on offer at Newman are not your 'Traditional HSC' subjects.
Take a peek at some of the 'hands on learning' opportunities available.
Introducing our 2021 SRC Congratulations to our 2021 College leaders and Student Representative Council members.
More than a Senior High School!
41 years of experience has taught us a lot, most importantly Vocational Education & Training cannot work as an "add on" to a high school.  We have a unique winning formula, that no other school in Port Macquarie or even the Mid North Coast has!
The opportunities that students at Newman College are offered are truly unique. Year 11 and 12 students study their HSC in combination with specialised 'on' and 'off the job' training in 'state of the art' facilities with industry standard equipment. To support our 'hands on' learning, students attend our College four days per week and learn 'on the job' in workplaces across the Mid North Coast one day per week.
Latest News
Stay connected with News at Newman
What past students have to say…
Newman was the best decision that I could have ever made for completing my HSC. Not only did I create life long friendships with amazing people, I created friendships with all the teachers, even those that weren't mine. Through the school's Vocational Education & Training Work Placement program I gained three jobs, one of which I am currently working at.  I am currently working in childcare and on the path to University to study teaching. I am so lucky to have had these opportunities! Thanks to everyone at Newman.
At first, I wasn't really sure what to expect attending Newman and how I would go finishing high school and my HSC without an ATAR. My uncertainty changed as I found myself achieving and thriving more than I could at my other high school. I was able to experience different career options and eliminate those areas that didn't suit me. I was given plenty of assistance and was thoroughly informed about university opportunities and application forms.
I am now in my first year of a bachelor of Criminal Justice, all accomplished without the overloading stress of a traditional school and whilst undertaking my HSC and other Nationally recognised certificates. I'm so glad I chose to study at Newman, it really is the best High School in Port Macquarie, where you really can experience an HSC like no other!
My time at Newman showed me how different high school can be. I tried areas of workplacement in fields I wasn't sure I would need. Being exposed to these different experiences gave me other skills that will help me be a better person throughout my life. I made a whole lot of new friends, that I will have for life, and generally feel that I am a better student and person for attending this College. I thank Newman for everything they offered me and how they helped me grow as a person.
When I studied Certificate II Metal & Engineering at Newman College, I was involved in a project that created a prototype of an underwater living space, which we called the Pod. This was an amazing experience as we got to create something meaningful, not to mention large, and we got exhibit the end product at a national event and meet the Dutch designers.
Working on real projects from scratch has really helped me understand true scope of works and the demands of the industry.
Newman College Events
Check out some up and coming events.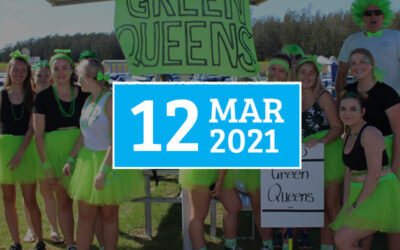 Date: Mar 12, 2021 A community team building day planned for Friday 12 March. GRIT stands for...
read more