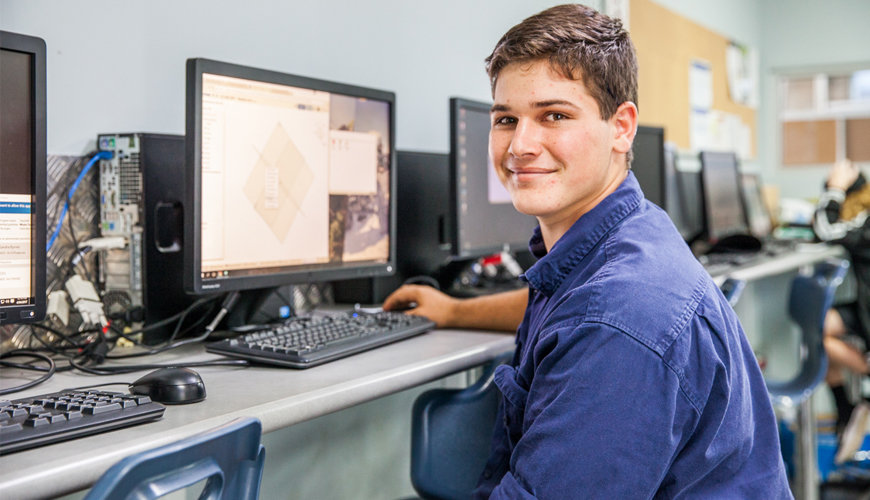 There are two courses for Computing applications, Multimedia or CAD/CAM
MULTIMEDIA
Computer-based technology is an integral part of contemporary society. This is reflected in daily activities carried out in contexts such as the workplace, education, entertainment, recreation and the home. In this course, students will participate in hands-on activities to develop skills and knowledge related to information and communication technologies so they can participate confidently in these environments. Each area of study is covered using practical computer projects that will be very useful for any future employment.
Career Pathways
May Include:
Desktop Publishing
Architecture or Building Design
Multimedia
Website Construction and Maintenance.
CAD/CAM
This course is designed for students seeking to develop advanced skills in Computer Aided Design (CAD) and Computer Aided Manufacturing (CAM) programs. Almost all design today is done through CAD and any designer base career would be enhanced by knowledge and skills in this area.
The course will be particularly valuable for those students who are also studying practical, technology based courses such as Metal & Engineering, Construction and Furniture Making and are considering employment in these areas.
Career Pathways
May Include:
Architectural Designer
Design Engineer
Draftsman
Operator / Manager of CNC workshop
COURSE FEATURES
Course Hours

240hrs

Workplacement

N/A

Unit Value

2 Unit Prelim
2 Unit HSC

SBAT Available

Yes